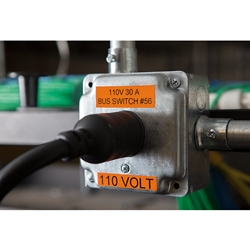 XTL - Permanent Flat Surface Labels
Dymo Permanent Flat Surface labels have a glossy finish that leaves your work looking professional. Constructed of polyester material and coated with industrial-grade adhesive. Available in smaller widths down to 6mm to fit in tight spaces.
These Dymo labels are compatible with the Dymo XTL label printer only.
---
Dymo XTL 6mm Permanent Polyester Flat Surface Labels

Permanent Flat Surface labels have a glossy finish that leaves your work looking professional
Constructed of polyester material and coated with industrial-grade adhesive
Available in smaller widths down to 6mm to fit in tight spaces.
UL recognized as a component to UL 969
Temperature Rating: -40° to 60°

Discontinued

---
XTL 12mm Permanent Polyester Flat Surface Labels

Permanent Flat Surface labels have a glossy finish that leaves your work looking professional
Constructed of polyester material and coated with industrial-grade adhesive
Available in smaller widths down to 6mm to fit in tight spaces.
UL recognized as a component to UL 969
Temperature Rating: -40° to 60°
---
XTL 9mm Permanent Polyester Flat Surface Labels

Permanent Flat Surface labels have a glossy finish that leaves your work looking professional
Constructed of polyester material and coated with industrial-grade adhesive
Available in smaller widths down to 6mm to fit in tight spaces.
UL recognized as a component to UL 969
Temperature Rating: -40° to 60°

Discontinued

---