---
Labeling specialist
---
Labelcity is a trusted leading supplier of Dymo Label makers, Dymo Labels, Brother Label makers and Brother Labels. Unlike many of our competitors, we've had over 14 years of intimate experience with 'personal label printers' or as some may say 'desktop label printers'.
The "Labelcity Difference" really lies in the fact that we focus so heavily on these items. Most other retailers offer them as just another product line amongst the other 10,000+ items they sell. Our narrow product range allows us to "stay in tune" with users of Dymo & Brother label printers, meaning that we can offer the right label and label printer for the job, at the right price and in the right time frame.
Our Customer Service staff have extensive knowledge on anything and everything to do with labeling and are available 9am-5pm (Mon-Fri) on 1800 645 100. Outside these hours we are constantly monitoring emails. sales@labelcity.com.au
What we sell
---
Labels, Labels, Labels
We have had over 14 years experience with labeling products and have been manufacturing our "Labelcity Brand" labels for over 10 years. Because we manufacture our own labels we can offer you "˜Direct from the Manufacture" pricing, cutting out all the middle men. Our Labelcity Brand Labels for Dymo Labelwriter & CoStar Label printers are made with the highest quality materials and are compatible with all of the Dymo Labelwriter range We also stock the full Original Dymo Label & Brother DK Label range for your convenience.
We also manufacture 'Veterinary Labels' preprinted with "KEEP OUT OF REACH OF CHILDREN", "FOR ANIMAL TREATMENT ONLY" to help you save time and money.
Dymo Labelwriter Printers
Compact, fast, user friendly. The Dymo Labelwriter is the fastest PC-and-Mac compatible label printer in its class. A very popular label printer with our customers, they print high-resolution (@600 x 300dpi) labels for envelopes, packages, files, folders, media, name badges and much more directly from Microsoft Word, WordPerfect, Outlook, QuickBooks, ACT! and other popular software. To help you save money these label printers use no ink or toner instead they use Direct Thermal technology. To build your reputation, the Label Writer prints professional-looking labels every time, with your favorite fonts and graphics. With a wide variety of label sizes you will be able to find a label for just about any job you can think of. They have a 2 Year Warranty and speedy output - How about less than one second per label? (up to 71 lables per minute).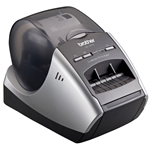 Brother QL Label Printers
faster, easier and more affordable than ever before producing a wider variety labels specific to your needs. Get organised and look professional with a label printer that can print either one or hundreds of labels at a time at the super fast speed of up to 69 labels per minute!
Now you can print die-cut; that's pre-cut labels or continuous length labels up to 102mm wide, allowing you the versatility to make labels as big or as small as you want!~ And because it's thermal printing technology, there are no recurring costs for toner, inks or ribbon. Brother label printers are the number one choice for label printing.