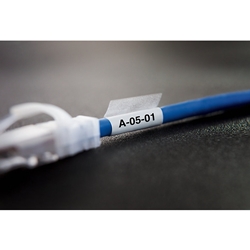 XTL - Laminated Wire/Cable Wrap Sheets
The Dymo XTL laminated wire/cable wrap. Ideal for flat surface labeling like barcodes, faceplates, shelves, bins , beams and more.Constructed of a glossy polyester material and coated with industrial-grade adhesive, Pre-Sized labels help facilitate batch label printing to improve productivity.
These labels are compatible with the Dymo XTL label printer only.
Dymo XTL Laminated Wire/Cable Wrap Sheet Labels 24x41mm Black on White

SKU: 1908553

Laminated wire/cable wraps protect against smearing
Get the job done fast - print up to five sheets at one time*
Use DYMO ID software1 to transfer sheet labels to an XTL label maker for reprinting on the go
UL recognized as a component to UL 969
Temperature Rating: -40° to 80°

*Results may vary based on printer Discontinued

---
Dymo XTL Laminated Wire/Cable Wrap Sheet Labels 24x103mm Black on White

SKU: 1908554

Laminated wire/cable wraps protect against smearing
Get the job done fast - print up to five sheets at one time*
Use DYMO ID software1 to transfer sheet labels to an XTL label maker for reprinting on the go
UL recognized as a component to UL 969
Temperature Rating: -40° to 80°

*Results may vary based on printer Discontinued

---
Dymo XTL Laminated Wire/Cable Wrap Sheet Labels 41x22mm Black on White

SKU: 1908555

Laminated wire/cable wraps protect against smearing
Get the job done fast - print up to five sheets at one time*
Use DYMO ID software1 to transfer sheet labels to an XTL label maker for reprinting on the go
UL recognized as a component to UL 969
Temperature Rating: -40° to 80°

*Results may vary based on printer Discontinued

---
Dymo XTL Laminated Wire/Cable Wrap Sheet Labels 41x41mm Black on White

SKU: 1908556

Laminated wire/cable wraps protect against smearing
Get the job done fast - print up to five sheets at one time*
Use DYMO ID software1 to transfer sheet labels to an XTL label maker for reprinting on the go
UL recognized as a component to UL 969
Temperature Rating: -40° to 80°

*Results may vary based on printer Discontinued

---
Dymo XTL Laminated Wire/Cable Wrap Sheet Labels 53x22mm Black on White

SKU: 1908557

Laminated wire/cable wraps protect against smearing
Get the job done fast - print up to five sheets at one time*
Use DYMO ID software1 to transfer sheet labels to an XTL label maker for reprinting on the go
UL recognized as a component to UL 969
Temperature Rating: -40° to 80°

*Results may vary based on printer Discontinued

---
Dymo XTL Laminated Wire/Cable Wrap Sheet Labels 53x41mm Black on White

SKU: 1908558

Laminated wire/cable wraps protect against smearing
Get the job done fast - print up to five sheets at one time*
Use DYMO ID software1 to transfer sheet labels to an XTL label maker for reprinting on the go
UL recognized as a component to UL 969
Temperature Rating: -40° to 80°

*Results may vary based on printer Discontinued

---