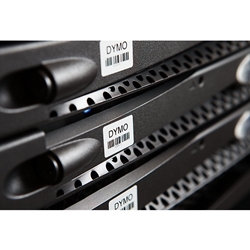 XTL - Pre-Sized Labels
Ideal for flat surface labeling like barcodes, faceplates, shelves, bins, beams and more. Constructed of a glossy polyester material and coated with industrial-grade adhesive, These Dymo Pre-Sized labels help facilitate batch label printing to improve productivity.
These labels are compatible with the Dymo XTL label printer only.
---
Dymo XTL Pre-Sized Labels, 12x12mm - Black on White

SKU: 1868665

Ideal for flat surface labeling like barcodes, faceplates, shelves, bins, beams, and more
Pre-Sized labels help facilitate batch label printing to improve productivity
Durable thermal transfer printing technology - label text won't smear or fade
Temperature Rating: -40° to 60°

Discontinued

---
Dymo XTL Pre-Sized Labels, 12x25mm - Black on White Discontinued

SKU: 1868666

Ideal for flat surface labeling like barcodes, faceplates, shelves, bins, beams, and more
Pre-Sized labels help facilitate batch label printing to improve productivity
Durable thermal transfer printing technology - label text won't smear or fade
Temperature Rating: -40° to 60°

Discontinued

---
Dymo XTL Pre-Sized Labels, 12x38mm - Black on White

SKU: 1868667

Ideal for flat surface labeling like barcodes, faceplates, shelves, bins, beams, and more
Pre-Sized labels help facilitate batch label printing to improve productivity
Durable thermal transfer printing technology - label text won't smear or fade
Temperature Rating: -40° to 60°

Discontinued

---
Dymo XTL Pre-Sized Labels, 25x25mm - Black on White

SKU: 1868668

Ideal for flat surface labeling like barcodes, faceplates, shelves, bins, beams, and more
Pre-Sized labels help facilitate batch label printing to improve productivity
Durable thermal transfer printing technology - label text won't smear or fade
Temperature Rating: -40° to 60°

Discontinued

---
Dymo XTL Pre-Sized Labels, 9x25mm - Black on White

SKU: 1868669

Ideal for flat surface labeling like barcodes, faceplates, shelves, bins, beams, and more
Pre-Sized labels help facilitate batch label printing to improve productivity
Durable thermal transfer printing technology - label text won't smear or fade
Temperature Rating: -40° to 60°

Discontinued

---
Dymo XTL Pre-Sized Labels, 12x19mm - Black on White

SKU: 1868670

Ideal for flat surface labeling like barcodes, faceplates, shelves, bins, beams, and more
Pre-Sized labels help facilitate batch label printing to improve productivity
Durable thermal transfer printing technology - label text won't smear or fade
Temperature Rating: -40° to 60°

Discontinued

---
Dymo XTL Pre-Sized Labels, 19x25mm - Black on White

SKU: 1868701

Ideal for flat surface labeling like barcodes, faceplates, shelves, bins, beams, and more
Pre-Sized labels help facilitate batch label printing to improve productivity
Durable thermal transfer printing technology - label text won't smear or fade
Temperature Rating: -40° to 60°

Discontinued

---
Dymo XTL Pre-Sized Labels, 25x51mm - Black on White

SKU: 1868702

Ideal for flat surface labeling like barcodes, faceplates, shelves, bins, beams, and more
Pre-Sized labels help facilitate batch label printing to improve productivity
Durable thermal transfer printing technology - label text won't smear or fade
Temperature Rating: -40° to 60°

Discontinued

---
Dymo XTL Pre-Sized Labels, 51x76mm - Black on White

SKU: 1868703

Ideal for flat surface labeling like barcodes, faceplates, shelves, bins, beams, and more
Pre-Sized labels help facilitate batch label printing to improve productivity
Durable thermal transfer printing technology - label text won't smear or fade
Temperature Rating: -40° to 60°

Discontinued

---